Nepal Monitor: The National Online Journal
---
New Media Gufa 2012 Nepal: Aggregated News & Views
An update on the news and views on the unique newscave event in Kathmandu, Sept 7-10, 2012.
This page has curated news and views published online about the recently held event (New Media Gufa 2012) in Kathmandu. Efforts have been made to compile and curate all related materials, as complete as possible.
First, a little more about the new media event, followed by summaries of stories with relevant links:
Five seasoned, net-savvy Nepali journalists were kept in seclusion in Hotel Mandap at Thamel for 3 days (72 hrs) from everything but computers or hand-held devices with uninterrupted access to the Internet.
The mission behind the closed door on the internet: find out the actual value of new media and their content in the development of news stories on issues that matter to the everyday lives of ordinary citizens.
The event was organized by the Kathmandu-based Media Foundation, in association with Hotel Mandap, Thamel, Kathmandu, The Himalayan Aid, and Vision for Nepal Foundation, USA.
The event challenged journalists to restrict their sourcing and information gathering to new media while reporting and writing original, high-quality stories on vital public issues. The story ideas were selected through intense discussion among participants and researchers. It took night-long discussion and selection process to arrive at the list of 5 pertinent social issues out of 17 different topics suggested by individual participants. The selection was done by lot.
During the lot drawing each of the participant picked up a story suggested by a peer: "Social Cost of Foreign Employment"- Rajneesh Bhandari (Kantipur TV), "Climate Change in Everest Region"- Keshav Koirala (The Himalayan Times), "Internet Penetration in Nepal's Rural Community"- Guna Raj Luitel (Nagarik), "Small Town Street Kids"- Arun Rai (Republica) and "Food Alternatives in Karnali"- Binu Subedi (Community Information Network-CIN).
The 3-member research team that monitored, observed and recorded the event included Dr Dharma Adhikari, Hem Raj Kafle, and Tikaswari Rai. The experiences and findings along with the stories are being compiled to be published later.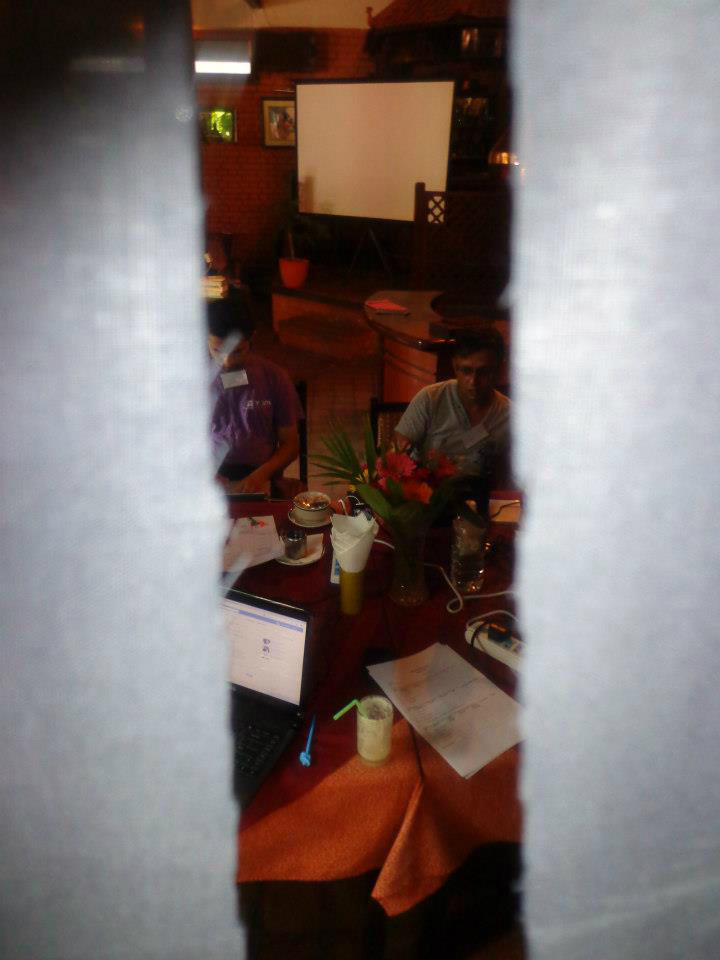 The story on the event was first reported on Sept 5, 2012 by Nagarik, a national daily in Kathmandu. The headline in Nepali language read: Five journalists to live in a 'cave'. The media blog site, mediakurakani, reported (Sept 6, 2012): Five Journalists to Enter 'Cave' in order to Explore the Value of New Media! It said the research event sought to assess the value of social media in reporting stories related to every day life of ordinary people.
The National News Agency (RSS) carried a piece announcing the Gufa event (Sept 7, 2012). Stories from RSS were carried by Republica, The Himalayan Times and many other news outlets, in print as well as online, including blog sites.
The German News Agency DPA carried a feature story "New media experiment for journalists in Nepal" (8 Sep, 2012). Part of the story, reported by Pratibha Tuladhar, read: The objective of this camp is to assess the extent of internet reach in a developing country like Nepal in sourcing and reporting stories..."
Further, the story reported: The reporters would use the internet to interact with sources but must maintain silence. They will have access to handheld devices and laptop computers but will not be allowed to speak on the phone or talk to each other.
It added: They are expected to develop stories on rural issues such as health, literacy, climate change, gender and children. Nepal only has 19-per-cent internet penetration and less than 1 million people use new media in Nepal, which is what makes this a challenging task for journalists," Adhikari said. He said he borrowed the idea from a similar experiment in France, which he had read about on the internet.
The Himalayan Times offered an update during the reporting process at the Gufa (Bid to develop stories that touch life, Sept 9, 2012). It reported: In a bid to find out the actual value of social media in the development of news stories on issues that matter everyday lives, the Media Foundation launched New Media Gufa 2012 in the Capital today... The event will challenge journalists to restrict their sourcing and news gathering to new media while reporting and writing high-quality stories on issues of common concern in rural areas.
Following the event, on September 10, The Rising Nepal carried a front-page anchor story ("Reporting from seclusion, social proves useful source") on the experiences from participants in the Gufa. The report asked: Is it possible to write news stories by using only internet and the social media like facebook? The response: A group of five journalists has proved it possible here.
On the same day, on Sept 10, blogdai, an anonymous Nepal blogger (who is an online sensation) posted a piece about the Gufa (rumor was he attended the event!). The headline of his post read: "A new day in Nepal". Part of his article read: "... 'New Media Gufa' or 'cave' where 5 of Nepal's top tech-savvy journalists chained themselves to their computers for three days in a heroic attempt to determine the extent of internet penetration in Nepal and to see if Nepali stories could be accurately told and sourced through the conveniences and limitations of the internet alone. It was a beautifully conceived and elegantly simple plan and its execution was wondrous. Competing journalists talked and worked together as colleagues; debated, shared ideas and source information; and all was well and good until..."
A day later (Sept 11, 2012), Nepal Samacharpatra, a Nepali-language national daily, updated readers on the experiences of the participants (Five Journalists Reporting from Gufa). The report read: Media Foundation studied to find out the challenges that come at the time of reporting through social media. After three days in the Gufa, all the five participating journalists said in unison- "we are pleased to be a part of this research and learned important things in life". According to the Foundation, it may take a time to come up with a complete report.
Similarly, the mediakurakani blog updated its readers (Sept 11, 2012) in these words: Journalists' 72 hours experience of Gufa. The gist of the story: Before entering the cave, none of the participants had any idea regarding the topic they would be covering. During the research period mobile or landline phones were strictly prohibited. Only the internet was allowed for the purpose of interviewing people and gathering information. Participants had to cite authentic and reliable sources, such as documents online or websites or social networks.
The story noted that major media organizations located in Kathmandu had recently banned social network sites like Facebook, Twitter etc in the workplace. Now, the story read, New Media Gufa had become an educational occasion for such organizations.
The lead researcher at the Gufa, Dharma Adhikari, wrote in his column in Republica, describing his experience (New Media Gufa, Sept 12, 2012). First, he asked: So how did the new media practitioners, the net-savvy journalists themselves, come to terms with this reality? Kept in seclusion inside the Gufa for four days, with continuous net connectivity, was the group of journalists able to find out the actual value of new media? Could they restrict their sourcing and information gathering to new media while reporting and writing original stories on rural Nepal?
He wrote: The journalists, chained to their computers, were strictly confined to the cave and the hotel. They fully abstained from using the telephone or reading print media. Participants were observed throughout their work by the research team. Their physical gestures, their modes of communication and Internet use habits were coded in observation sheets. Instances and issues relating to net connectivity, online content, sourcing variations and news attributions were also coded for analysis.
He further wrote: Participants were required to use at least three local (from village or district level) human sources directly relevant to the subject, along with two expert, one documentary, and three data related sources from off the Internet. They could only use authentic, relevant and highly credible websites with complete references as appendices.
On September 15, 2012, Nitya Pandey, writing a feature story in The Kathmandu Post (A digital bubble) described the experience in these words:
"The five Gufa Explorers spent their days huddled over their computers, working on their respective stories. Cell phone use was banned except for Skyping, Tweeting or Facebooking. Keshav Koirala, an active social media user, currently with the online department at The Himalayan Times, prepared a report on the impact of climate change in the Everest region, while Arun Rai, the chief of myrepublica.com, wrote about street children in Dharan. As challenging as the project proved to be, all participants describe it as one of the most memorable experiences they've had, one that compelled them to be more inventive and resourceful than they'd ever thought possible. "It was very engaging," says Guna Raj Luitel, an eminent print journalist who has worked for Kantipur, Annapurna Post, and Nagarik dailies. "My piece was on the extent of Internet infiltration in Jumla. So, anyone who listed it as their hometown, I added to my friend list. I was surprised how many contacts that offered up."
"Of course, it wasn't always chipper in the Gufa. Adhikari says that apart from demonstrating the uses of new media as effective tools in sourcing and investigative reporting, the objective of the project was also to test the journalists on a more human level. "They begged, pleaded, and even wept in there," he says. "It was interesting to witness what escaped their lips under round-theclock surveillance. The most frequent words were 'I must call somebody.'" The time constraint and lack of timely responses from sources were also what exasperated most participants."
Some participants also wrote articles describing their experience. For example, Guna Raj Luitel from Nagarik, penned a piece entitled "Attraction of new media Gufa" (15 September, 2012). Part of the article in the Nepali-language daily read:
Now in our society too Facebook has become like a friend, Google as a guru (teacher) and Twitter as the humming sound of birds. This latest trend of internet is called social media. Media itself is not social or unsocial; they are just a medium.
He further wrote: Even though the participants were from different media organizations, the Gufa became like a newsroom and the discussion including the researchers were multi-dimensional. If every news topic is discussed in this way, then the result will be fine.
Another participant, Rajneesh Bhandari, produced (Sept 17, 2012) a multi-media story for thinkbrigade.com, an online publication based in the Netherlands, with a global scope. In the article, Nepal: Writing News Stories From a (Digital) Cave, he reported in detail about the event and his experience.
Part of the story read: For 72 hours, five journalists were kept in a secluded house, far from bustling newsrooms and their editors. The challenge was to produce stories based on online and social media sources. No phone calls, no interviews. The event, called New Media Gufa and organised by the non-profit Media Foundation Nepal in association with Hotel Mandap and Vision for Nepal Foundation USA, took place on 7-9 September in Kathmandu, the Nepalese capital.
"Gufa means cave in Nepali," said Binu Subedi, one of five journalists taking up the challenge. Journalists were nominated by their peers and screened by a selection committee.
In Nepali society, a cave is not just a natural underground chamber. It is the symbol of rigorous experimentation, a place for meditation, spiritual awakening and where one can contemplate on experiences. The media cave that took place in Hotel Mandap in Thamel, a major touristic hub in Kathmandu, was also given an aesthetic touch.

Yet another participant, Arun Rai, wrote in Republica (Allegory of the cave, 19 September 2012): The countdown begins at noon, with a team of fellow journalists and media researchers showing them the way to the makeshift cave right after the press conference. The following three days would see the journalists being tested for their reporting skills in a most trying situation, with their mobility restricted to the confinement. Except for internet, they are disallowed to use any conventional means of communication, such as phone, or converse among themselves.
He added: With individual stories assigned and specifications laid out, the journalists suddenly find themselves racing against time to hunt down their sources. With severe reporting constraints, the first leads of their stories don't get condensed before the new media stalwarts literally have psyched themselves out while making inroads for sourcing. At some point, the danger of failure loomed large over the Gufa!
Relevant links
> New Media Gufa official Website
> Official Twitter account
> Official Tumblr page
> YouTube account
> Flickr page
> Media Foundation- Nepal
> Media Foundation Facebook page

###
Posted by Editor on September 20, 2012 12:20 AM